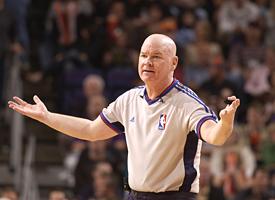 The NBA referees have agreed upon a 5 year deal. These over-paid, under-skilled weasels feel that they deserve $300,000+ per year plus many perks. Two years ago contract disputes almost led to replacements opening the season, but Thursday the NBA and refs have come to a conclusion with a 5 year contract.  Though the details were strictly confidential, it has been reported that last week the referees agreed to the new deal.   National Basketball Referees Association general counsel Lee Seham has stated that "We did not get everything we wanted, but given the current economic climate and the continuing players' lockout, we are satisfied that this deal was in the best interests of our members".
About two weeks after the refs contract expired on September 18, they were locked out after negotiations went sour.  Originally the contracts are good for five years, but with the dwindling economy the referees thought that it would be best to agree on a two year contract so they could dive right back into negotiations should the economy improve.  Things didn't go as planned, and replacement refs were brought in much to the dismay of players and coaches during preseason games.  This deal has come just in time for the refs to resume their positions during the regular season.
On Thursday the agreement was ratified by owners in Dallas, but the terms of the contract were not revealed as of yet.  The road to the final agreement wasn't an easy one though.  Thomas Washington, NBRA executive board member has said that the talks were "long and arduous process."   While this lockout has had a positive outcome, the NBA player/owner lockout is still looking for an acceptable negotiation on both sides in the meantime.
Online betting sites for betting on the NBA.
NBA Referees FAQ – Some Facts About Basketball Refs
This post was very short so I figured that I would answer some of the common questions people have about  NBA basketball referees.
Q. How much do NBA referees make per year?
A. The starting pay for a ref in the NBA is around $150,000 per year. Experienced NBA referees can make over $300,000.
My thoughts: Around 15 years ago NBA ref's started out at around $18,000 year. They are now earning 10X as much. The average yearly wage in 1983 for the entire U.S. work force was $15,000. It would be nice if this stat was 10X higher today but sadly it has only increased by about 1.5X. NBA referees and other union employees make much more than they deserve. I think the NBA should have simply fired the referees when they threatened to strike. They could have been easily replaced by people that would be more than happy with realistic wages.
Q. How do I become a basketball referee?
A.  You have to be an experienced basketball ref with at least 10 years experience but that is just the minimum.
My Thoughts: Like most union jobs becoming a ref in the NBA is more about knowing someone than actual skill. Unions are all about corruption and if you don't know someone that is in the NBA Referee Union you will never be considered for a job.
Online betting sites