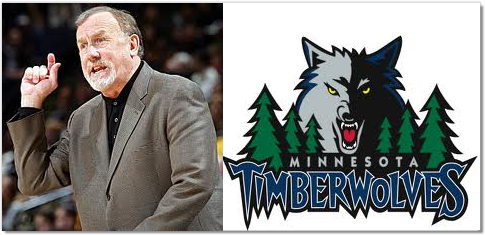 On Wednesday, September 28, the Minnesota Timberwolves introduced former Houston Rockets coach Rick Adelman as their new coach for the upcoming season.  The Timberwolves, who are the youngest team in the league and have a rocky record must have sparked something in Aldeman to take on the challenge.   Adelman looked back at the times that he has trained new unseasoned players in Houston and has recalled how rewarding those experiences were.
Adelman is the perfect person to turn the Timberwolves into force to be reckoned with during the 2011-2012 NBA season, provided the NBA lockout is resolved. Bodog, one of the best NBA sportsbooks, is offering 100 to 1 on the Timberwolves winning the 2012 NBA championship.
"I kept looking at this group and I thought, this could be a really good situation with the youth they have, the talent they have," Adelman said. "You never know what you can do and I felt it was a great challenge and so I decided it's a good place, it's a good place to take the challenge up and try to turn things around."  Adelman has 945 victories under his belt, and has led his teams to the playoffs 16 times.
Timberwolves president of basketball operations David Kahn said that "His presence here because of that success creates an aura of confidence that settles over our entire organization".
There were reports that Adelman  only took on the coaching postition due to his dislike for David Kahn, but those rumors were quickly shot down by Adelman.  "I wouldn't be here if that was the case," Adelman said. "I don't know where that came from. People talk all the time. We've known each other for 25 years.
I started talking to him a week after I got back from Houston. We had a lot of discussion. I don't know where that came from, but why would I want to come to a place and work with somebody that I didn't like?".  Adelman and Kahn go back as far as 20 years when Kahn wrote about sports on The Oregonian and Adelman was managing the TrailBlazers.  Lack of good communication was a factor in the firing of Kurt Rambis who was let go early last summer, but Kahn and Adelman understand that good communication is the only way success is possible.
"It's got to come from both of us and I think the players then respond to that," Adelman said. "The whole organization has to be as one and the situations I've been in it's been that way. You have input, you give input. It's going to come from (owner Glen Taylor) to David and me, I think we're all going to be as one when we make decisions."
Online betting sites