Brooklyn Nets defeat Miami Heat 104-95
The Brooklyn Nets are now on fire as they managed to increase their winning streak to five games by taking down the two-time defending champions – Miami Heat – on Friday night, 104-95 after two OT.
Nickname jerseys presented for Heat and Nets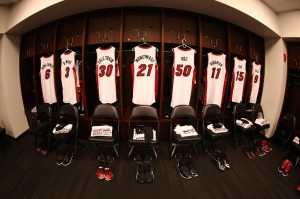 The game drew a lot of attention, and not just because of the two big teams facing on the court but also because it was the highly anticipated nickname game. About a month ago, players were asked to choose their nicknames, which they will have on the back of their jerseys.
Some of them were quite obvious and common amongst fans as LeBron James had "King James" and Dwayne Wade only chose to use "D. Wade". However, other nicknames were not so straightforward as Michael Beasley was "B Easy", Ray Allen had "J. Shuttlesworth" on his jersey and Mario Chalmers went for "Rio" for the Heat.
The Nets also had their nice selection of nicknames on their jerseys and some of the most popular ones were "Truth" for Paul Pierce, "Plums" for Mason Plumlee, "Dray Live" for Andray Blatche and "Joker" for Reggie Evans.
Shaun Livingston had "S Dot" on his jersey against the Heat and he was flying everywhere as the Nets defeated the Heat in 2 OT. He helped carry Brooklyn in the second overtime while James could only watch from the bench after fouling. S Dot made two baskets and blocked another two in the second overtime, before finishing with a total of 19 points and a career-high 11 rebounds after a great effort that lasted over 51 minutes. He started as a replacement for Deron Williams, who will be away from the court due to injuries.
Early lead and tough fight towards the end
The Nets got an early lead and then had some trouble keeping the Heat at bay but kept their calm better while tension rose amongst both teams.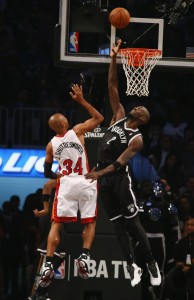 Paul Pierce finished the night with 23 points to his name but missed crucial shots. He had two chances at winning the game earlier but missed both jumpers as the time ran out for regulation and for the first overtime. It was close, but Brooklyn remains undefeated for 2014 as they add the Miami Heat to their recent victims list, alongside Oklahoma City Thunder and Golden State Warriors.
King James scored 36 points, had 7 rebounds and 5 assists but was not able to be on the court for his team towards the end of the game. He made an offensive foul in the first overtime, with just 36 seconds remaining and Miami behind by two. This was the first time since 2008 that James committed a foul in the regular season.
Miami rallied without their star player, while already playing without Dwayne Wade and two other key players, and pushed the Nets to a second overtime, but were unable to keep the momentum going and end Brooklyn's winning streak on Friday night.
James was clearly not happy with his team during the first half and stated that he apologized during the halftime break. Mirza Teletovic fouled him quite clearly and this irritated LeBron for a good period of time. He almost managed to come back and help Miami get a much needed win against the Nets but the foul in the first overtime made things a lot harder for the Heat.
James said after the game that it was hard to make up for the three starters that weren't able to play, despite the fact that the team has enough depth.
The Nets won't have time to rest after their win as they travel to Toronto to take on division rivals Raptors later today. The Heat on the other hand will have plenty of time to recover from this close loss as they will have to play the Wizards on Wednesday.