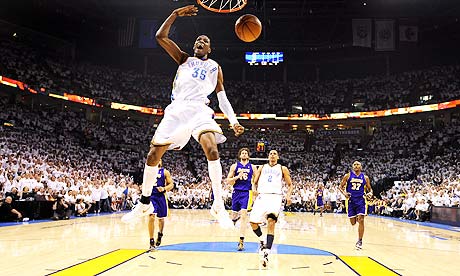 Kevin Durant is likely going to join the ranks of NBA basketball players that have also become movie stars.  Durant is close to sealing a deal with Warner Brothers for a star role in an upcoming basketball movie. There are plenty of rumors floating around as to what the movie will be about and if it will effect Kevin Durant's position on the Oklahoma City Thunder.
Durant has played in the NBA since 2007 and has an excellent track record. He started off playing for the Supersonics in 2007. As a rookie he was one of the NBA's top players and reportedly turned down a $70,000,000 promotion deal with Adidas.
He recently signed a 5 year contract with the Thunder for $86,000,000. You can expect some basketball sportsbooks to come up with fun prop bets regarding Kevin Durant's potential movie deal. Durant is considered by many to be on par with LeBron James and Kobe Bryant.
A large number of Kevin Durant fans are worried that he will decide to end his NBA basketball career early in order to pursue a Hollywood career full-time. If that happened it would be a huge loss to the new talent in the NBA.
Online betting sites for betting on the NBA.