March madness is so overpowering in America that the air is dense with the Big Dance excitement. If you so much as live in the country, you cannot help but inhale some of this thrill. Celebrities and college folk swarm game venues all over the country to get a slice of the madness. President Barack Obama has filled his brackets and drawn up his Final Fours. You also must have done the same already. However, behind all the high drama, upsets and feverish enthusiasm that characterizes March Madness, as teams develop a following and students go wild in the stands, the spearhead behind the teams are often overlooked. So, here we come with a glimpse of the coaches behind the teams of this year's NCAA basketball 2012.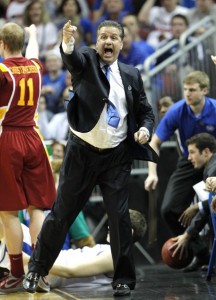 John Calipari – par excellence
John Calipari
 In the world of basketball coaches, John Calipari is a celebrity. His presence on the court is electric. He also has several feathers in his cap. Presently the head coach of University of Kentucky, Calipari has been the head coach of New Jersey Nets, University of Massachusetts Minutemen and University of Memphis Tigers. He is famed for leading three different college teams to the top seed and he is the only coach to do so. In 1996, 2008 and 2011, UMass, Memphis and Kentucky respectively made it to the final four under his guidance. He has won "Best Coach of Year" award thrice. He has the power to spearhead a team to the very top. Will Kentucky optimize on his presence this year? Let's wait and watch.
Jim Boeheim
 Head coach of Syracuse University, which is touted as being one of the top contenders for this year NCAA Cup, Jim Boeheim is a man with the will of steel. Ranked third in the contender list for best coach awards, Boehmein already has several distinguished achievements. He was the assistance coach for US Men's national basketball team. In the coming Olympics, he will retain his position as assistant coach for the Olympic basketball. He is the chairman of Men's junior national committee and was the President of National Association of Basketball Coaches during 2007-08. In September 2005, he cemented his place in basketball history when he was given a place of pride in Basketball Hall of Fame. He holds the record for securing the highest number of wins for a single school, which is quite an achievement. With such a coach, Syracuse is a team to watch out for.
Frank Martin
Frank Martin is a young gun in the coaches' league. Lead coach of University of Kansas, Martin has already proved his mettle in his short duration in coaching. After he took over as the head coach of Kansas in 2007, the Wildcats broke into the top 25 slot after a gap of over three decades. The team has defeated higher ranked teams and in 2008, Kansas defeated a second seed. In 2012, his name was on the Big 12 Conference Coach of the Year award. He is a coach with some serious potential.
Although all basketball bets are placed on the team depending on their seed and performance, it is important to take a look at their coach as well. Many times, a good coach can mean a championship win.
Online betting sites