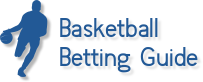 Basketball is one of America's favorite sports to bet on. Basketball betting can be a very lucrative hobby if you are knowledgeable on the game or just happen to be a lucky bettor. I started betting on basketball when I was a teenager. I grew up in the south suburbs of Chicago so the Bulls were my favorite team. As a sports bettor I do not have a favorite team anymore. Betting on sports like basketball is an important part of my income so I cannot afford to bet unwisely. My favorite team changes each week depending on who wins me the most money.
There are four major sports in the USA and basketball is the easiest to place wagers on. Other sports have complex betting systems but for basketball it is fairly simple. This basketball betting FAQ will answer some of the common questions new sports bettors have. If you are unfamiliar with some of the lingo used in this basketball betting guide please visit our basketball betting dictionary.
Ways to bet on basketball
There are many ways to bet on basketball. The first is a point-spread bet. Finding the best bets is the main objective of a sports bettor. The sportsbook does not really care which team wins or losses. Their main goal is to receive an equal amount of bets on each team. They make money on the vig, a small fee charged by the sportsbook for making a bet. The only exception to this rule is for specialized bets like prop bets and parlays. The bookmaker will only win money if you lose. This means that point spreads and moneylines are not based on the expected outcome, they are based on betting pasterns. Knowledgeable basketball bettors can spot the good bets from the bad bets. Here is a basic guide to the different types of bets in basketball.
Basketball Pointspread Bets - Chicago Bulls -3, Detroit Pistons. The oddsmaker is giving the Pistons an additional 3 points. If the final score was Chi 98, Det 97, everyone that bet on the Pistons would win. These bets are typically payout 1:1.
Basketball Over/Under Bets - The O/U wager is based on the total combined score for the basketball game. If a sportsbook offers an O/U 187 betting option in the Nicks vs Bulls game you can bet on both scores being less or more when combined. These bets usually pay 11:10, so you will risk $11 to win $10.
Basketball Moneyline Bets - These bets are very popular among basketball bettors. There are not any pointspreads for these wagers. If a really strong team is facing a weak team the sportsbook will adjust the payouts. Here is an example: Boston Celtics -300, New York Nicks +240. The Celtics are the strong team in this equation. You will have to bet $300 to win $100 if you bet on the Celtics. If you bet $100 on the Nicks and they win you will win $240. Betting $100 is not mandatory, you can scale it down or up as desired. A $30 bet on the Celtics would win $10 and a $10 bet on the Nicks would win $24.
Basketball Prop Bets - Prop bets in basketball can be on just about anything. You can bet on a certain basketball player fouling out or getting a technical foul. Other prop bets can include things like who's winning at half time, how large the lead is and the number of 3-pointers made. Prop bets are something the sportsbooks design for themselves so they will differ at each bookmaker. The payouts for prop bets can be larger than any other type of bet.
Basketball Parlay & Teaser Bets - This are commonly called exotic bets and they are well known for huge payouts. Parlay bets require you to correctly pick the winner for 2 or more basketball games. The pointspread will be factored in. Parlay bets in basketball increase the payouts significantly. Teaser bets are similar but they allow you to adjust the pointspreads. For instance, you may have to pick the winners for 6 games and you will be given 10 points that you can use tho adjust the pointspreads. These bets also have great payouts.
Basketball Futures bets - Lets say it is the beginning of the NBA season. The bookmakers will publish futures odds for many different events. You can bet on a certain team winning their division, conference or the Playoffs. The strong teams will have single digit payouts (e.g., 3:1, 5:1, 7:1) and the weaker basketball teams can payout over 200:1. This are really fun bets that will make the basketball season even more exciting.
Best Sportsbooks For Basketball Betting
A Sports betting exercise for beginners - testing yourself
New sports bettors tend to make many mistakes during their first few weeks. Perhaps this is due to not entirely understanding moneylines, pointspreads and the other types of bets.
Step 1: Take a look at the game line-up for next week's basketball games. Without looking at any lines or spreads, mark down which time you think will win, by how many points and how many times out of 100 you think each team will beat the other team. You can use any information you feel is needed to make these predictions, just don't let the lines and spreads influence your picks.
Step 2: Look at the lines and spreads and determine which ones differ the most from your predictions. List the teams in order of the difference. For pointspreads, if you think the Bulls are going to win by 3 points over the Pistons but Bodog is giving the Pistons 6 points that would be a significant difference. For moneyline bets you will use the xx/100 percentages you determined in step 1. If Bodog's moneyline for the Det/Chi game is Det +250, Chi -200 and you feel that Detroit will win 35/100 games you will have found some potential value since the moneyline indicates that they will only win 25/100 games. If you bet $100 on Detroit for a 100 straight games with the +250 moneyline you would have won $8,750 on the 35 (35X$250) Det. wins and lost $6,500 (65X$100) on the 65 Det. losses. That's a potential profit of $2,250.
Step 3: Pretend that you made the top five bets, let's say $100 each week, and see how you would have done. Be sure to have at least two moneyline and two pointspread bets. You may be a natural at spread betting but not so good at moneyline betting, or vice versa.
Do this for three weeks to see which type of betting you are best at and to get a feel for how accurate your knowledge on basketball is. If you would have made a profit every week that would be a good indication that you know what you are doing. If you would have made a profit for 2 of the 3 weeks that is still a great sign but you may want to put more effort into researching. If you would have only made a profit during one of the three weeks that means you need to put in a lot of work before you can start betting serious money on basketball.
Don't put too much stock on the results of this training/testing exercise though. Upsets happen all of the time in basketball so you can never be 100% sure on anything, especially your skill level. Take it slow, bet small and keep records of your weekly results. Over time your weekly return should rise steadily. I started off winning $.75 on every $1 that I bet (losing money) on basketball. Six months later I was winning $1.25 for every $1 bet. There is a lot of variance in sports betting so never bet more than you can afford.
Can U.S. citizens bet on basketball games?
The legality of online sports betting is not that clear unfortunately. Some sports books accept American bettors and others do not. I have not ever heard of someone getting arrested for betting on basketball online. The actual online bookmakers are probably the only ones at risk. In May 2011, the U.S. government started cracking down on poker, casino and sports betting sites but only the poker rooms have been hit hard. I am not a lawyer so the only advice that I am comfortable giving you is to use your own judgment and pay your taxes on your winnings. I have listed the best basketball sportsbooks at the top of this page.