BetOnline.com is a popular sportsbook for American and European gamblers. The basketball betting action at BetOnline has put them in the top three online sportsbooks for that category. Unlike their main rival, Bodog, BetOnline accepts action on FIBA and WNCAA basketball games, in addition to NBA and NCAA college basketball. That is why they have attracted so many international sports bettors. BetOnline has been around in one form or another since 2001. A large online sports betting company acquired them in 2004 and have since moved their entire operation to BetOnline.com. Their success story is unique among online basketball sportsbooks. They built their brand by offering better lines than everyone else, a practice that continues to this day. Instead of using the standard -110, Bet Online starting offering -108. The difference may be small, but over time this will add up to a lot of money. Their web site and betting interface may not be as advanced as the other guys, but they make up for that by offering some of the best basketball lines in the industry. This BetOnline sportsbook review will cover each of the important aspects that make this book one of the best.
betOnline first deposit sports book bonus - you find it, they match it!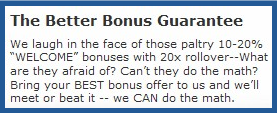 BetOnline does not offer a standard first deposit bonus. They challenge you to find a bonus at any other sportsbook and they will not only match it, they will also beat it! It requires a little extra work on your part, but it is worth every second you spend searching. As a general rule, the higher a sportsbook bonus is, the higher the roll-over requirements are. BetOnline will match your best bonus and significantly lower the roll-over requirements. They are the only sportsbook to offer anything like this. While it may be unorthodox it is also +EV for you. I've went ahead and done the research for you. You just need to email them a link to the bonus offer and the T&C within four hours of your deposit and they will either match it or beat it. If you want to claim a straight bonus without any of this hassle you can receive the following bonus for using one of the links on this page to visit BetOnline and create an account.
25% bonus up to $900 - 10X roller-over requirement.
If you want to get a better bonus and do not mind sending an email or two please email me at Joshua@bettingbasketball.org. I will provide you with the necessary information to claim a larger deposit bonus.
BetOnline doesn't stop at a single deposit bonus though. They will give you the same 25% match bonus EVERY TIME you make a deposit that is $50 or more. That's right, you will receive a bonus on every single deposit for as long as you are a customer at BetOnline. The 10X wagering requirement isn't that bad compared to many others. Here are some examples of the bonus and what you will need to wager before you can withdraw any of the bonus money.
Deposit $50 - You will receive a $12.50 bonus. In order to clear the wagering requirements you will need to make a total of $125 in wagers. You have $62.50 in your account so if you place three $20 straight bets and lose on one of them that would leave you with $82.50. If you place four more $20 straight wagers you and lose on one of them that would leave you with $122.50. That would have bet a total of $140 so you have already exceeded the roll-over reqs. and will be able to cashout part of all of your winnings. BetOnline only uses the 10X roll-over requirement as a means to protect themselves from unscrupulous sports bettors.
Deposit $200 - Your bonus will be $50 and you will have a $500 roll-over requirement.
Deposit $500 - Your bonus will be $125 and you will have a $1,250 roll-over requirement.
Deposit $2,000 - Your bonus will be $500 and you will have a $5,000 roll-over requirement.
Deposit $3,600 - Your bonus will be the full $900 ad you will have a $9,000 roll-over requirement.
Unless you like to risk large sums of money on longshots and 12-team parlays you will have little trouble clearing these bonuses. You can easily build up your total amount bet by wagering on coin-flip games. You have here to bet on basketball at BetOnline though so the fine print of the bonus policy probably does not concern you very much so long as it is fair and rewarding, which defines the bonuses at Bet Online.
NBA & WNBA Betting At the BetOnline sportsbook
BetOnline's NBA betting features lines that are slightly better than what their rivals offer. This may not make a big difference on a single bet, but over time it can easily add up to thousands of even tens of thousands of dollars. Bet Online's over/under, moneyline, basketball point spread bets, futures and straight bet lines tend to provide a little more value than Bodog's, the other U.S friendly sports book. Personally, I bet at both Bodog and BetOnline.com because I can hedge my bets, also known as arbitrage, by betting on both basketball teams. Doing this basically gives you more bang for your buck and it is very easy to do at BetOnline.
NCAA & WNCAA Basketball Betting At BetOnline - betting college basketball
Not many online sportsbooks accept action on WNCAA basketball games. Bet Online offers some of the best lines on college basketball and their prop bets are also impressive. Mens and women's college basketball betting is more profitable to knowledgeable gamblers because there are so many teams and so much going on. NBA players are practically celebrities but college players come and go so there isn't that much effort put into analyzing every potentially important aspect of their health, social life, practice attendance and so on. The lines BetOnline puts out for NCAA basketball are much better than what some other books offer.
FIBA basketball betting at betOnline - bet on international basketball
Not too many U.S. facing sportsbooks take action on FIBA basketball games. FIBA is basically Europes's version of the NBA. The best FIBA sportsbook is Bet365 but BetOnline is the best for American gamblers. Have you ever wished there was a basketball game on so you could make a few wagers but there was not? Try FIBA betting at Bet Online and you can watch Spain play France and make some money in the process.
BetOnline basketball betting interface - betOnline.com software review

I won't lie to you. The betting interface at BetOnline is old-school but it is easy to use and reliable. Sometimes simple is better and BetOnline has been proving that old saying for a long time. They have improved lately though. The above screenshot is for their new betting interface. The old, or "Classic" as they call it, was not only an eye sore but it was a time waster as well. There is nothing I hate more than taking more than 15 seconds to make a basketball bet. The new interface is much better, but still simple in a practical kind of way. To bet on a basketball game you will need to click on the basketball tab located on the left side of the screen. That will bring up the current basketball lines in the middle of the screen. You can now click on the bets you want to make. Up above the betting interface a button will pop. In most cases the button will say "Straight", click on that.
That will bring up the wager ticket, as shown above. Type in the amount you wish to bet in the "Risk" box and the amount you will win will be displayed in the "To Win" box. BetOnline allows you to buy points on virtually everything. Buying points will change the odds quite a bit, but it is worthwhile sometimes. For most basketball games you can buy up to 5 points, here is an example:
Dallas Mavericks Vs Miami Heat +4, -110. If you bet on the Mavericks and buy 4 points the line will change to -280. If the final score is Dallas 98, Miami 97, you would win the bet because the four points you bought cancels out the pointspread.
Basketball wagers at BetOnline are both easy to place and mistakes are rare since the betting interface is so simple. After you have finished making your wagers you just need to submit your ticket.
Mobile Betting At the BetOnline.com Sportsbook - smartphone sports betting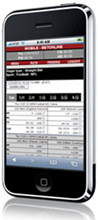 BetOnline offers a mobile betting service. This is perfect for betting on the go. They support most smartphones so if you have a cell phone or PDA that was bought within the last five years you should not have any trouble placing basketball bets through their mobile service. Mobile sports betting is perfect for when you are at the office or anytime you are away from your computer. No special downloads are required for most mobile devices. BetOnline.com uses the latest encryption security that allows all mobile wagering to be just as secure as betting through their main web site.
I've found that their mobile platform is very useful when I'm with my friends and they want to place some wagers. I just load to the BetOnline mobile site through my phone and let them make their own wagers. They give me the cash plus a small vig and everyone is happy. Mobile betting also comes in handy when I am traveling and can't get my laptop connected to a network. You never want to miss out on a event for a silly reason like being out of town and BetOnline makes sure that you won't.
BetOnline sportsbook promotions - promos at bet online
BetOnline offers seasonal promotions for each major sport. Their favorite type of promotion is a refund on losing bets. The situations that qualify for a refund will vary quite a bit. In baseball if the pitcher throws a no-hitter all losing bets will be refunded. In hockey they are offering the 'What The Puck" promo. If you bet on an Under and one team scores more points than the Over you will have your bet refunded. In Soccer they are running the Nil-Nil promo. Any Over bet on a game that ends with a 0-0 score will be refunded. They run promotions like these during the NBA, NCAA Mens, WNCAA, WNBA and FIBA basketball seasons as well. Horse race bettors can receive a 7% rebate on their daily wagers. Casino players will also be rewarded with a wide range of promotions.
BetOnline sportsbook - what sports can I bet on?
BetOnline is one of the only U.S. friendly sportsbooks to accept action on international sports. They have a wide range of sports and quasi-sports that you can bet on. They offer lines on everything from the NBA to MMA. Here is a general list of the sports you can wager on at BetOnline:
Basketball - NBA, NCAA Mens, WNBA, WNCAA & FIBA
Auto-racing - IRL
Baseball - MLB & NCAA baseball
Hockey - NHL
Football - NFL, NCAA football & Australian
Soccer - USA, Argentina, Brazil, Denmark, England, Finland, France, Italy, Netherlands, Norway & Russia
Tennis - ATP & WTA
MMA
Boxing
Cricket
Golf
Entertainment
Financial
These are just some of the sports that BetOnline.com supports. Some have been left off of the list because they are currently in the off-season so BetOnline is not listing them.
betOnline history - credentials - licensing - company profile
BetOnline has a long history as a leading basketball and general sports betting book. They have an B+ rating with the top independent sportsbook monitor. They acquired the BetOnline.com domain in 2004 and have grown into one of the largest bookmakers on the Internet. here is a company profile for BetOnline.com:
Established: 2001
Corporate Offices : Panama City, Panama
Licensed by: Government of Panama
U.S. Customer Service: 1-888-426-3661
International Customer Service: +507-206-3369
Email: cs@betonline.com
Skype: PlayerServices
Other contact method: LiveChat
BetOnline is more than just a basketball sportsbook. They offer several other popular products and each of them is open to players from the USA. Here is a list of the online gambling services available at BetOnline:
Sportsbook
Horse racing book
Casino
The casino is especially popular. They offer over 100 games including seven types of Blackjack. The bonuses and promotions at the casino put most online casinos to shame.
Banking At the BetOnline sports book - betOnline.com deposits & cashouts
BetOnline is the only online sportsbook that accepts e-check deposits from U.S. citizens. All it takes is a US checking account and you will never have a problem funding your basketball betting account. I have listed the BetOnline.com sports book deposit options below.
Visa (Credit/Debit) - Min: $50, Max: $2,000 - U.S. Friendly
Instant e-Check - Min: $50, Max: $1,500 - U.S. Friendly
Pre-paid or Virtual Visa (Available Everywhere) - Min: $25, Max: $500 - U.S. Friendly
Person to Person - Min: $50, Max: $2,500 - U.S. Friendly
Person to Person By Visa - Min: $50, Max: $2,500 - U.S. Friendly
Money Orders - Min: $300, Max: $9,000 - U.S. Friendly
Moneybookers - Min: $10, Max: Unlimited
Neteller - Min: $10, Max: $50,000
Book to Book - Min: $500, Max: Unlimited - U.S. Friendly
Bankwire - Min: $1,000, Max: Unlimited - U.S. Friendly
Check - Min: $1,500, Max: $24,900 - U.S. Friendly
Many new online sports bettors ask about the Book to Book option. BetOnline has teamed up with many other online bookmakers. If you have funds at one of these sportsbooks you can transfer it from there to your BetOnline account. Contact support for more info.
BetOnline is a fast paying sportsbook that does not give you the run-around when you want to cashout your winnings. Here is a list of the withdrawal options at BetOnline:
Check - Min: $500, Maximum: $2,500
Book to Book - Min: $500, Maximum: $8,000
Person to Person - Min: $100, Maximum: $2,500
Moneybookers - Min: $25, Maximum: $2,500
American bettors typically use the paper check option to cashout at BetOnline.com. It is delivered via courier so you will have it in hand pretty quick. The only cashout option lacking is bankwire. If you want to withdraw a medium to large amount of money I would suggest transferring it to another book that does offer bankwire cashouts.