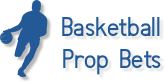 Prop bets or proposition bets are special types of wagers that can really liven up any basketball game. Basketball prop bets can be made on a nearly anything and have a can payouts ranging from small to insanely large. What is a proposition bet in basketball? Every season the best basketball sports books create their own prop bets. Most are completely based on luck and are most common during major basketball events. They are usually on things that you would not normally bet on. Gamblers should be somewhat wary of proposition bets. Many are considered suck bets but you just have to recognize the good ones from the bad ones. There are a few different types of prop bets in basketball. Some are genuine bets that sports bettors, or punters as they are called in Europe, can do very well from. Others are either complete long-shots or suck bets. Here are the different types of basketball proposition bets and a basic example for each type. I have classed them by difficulty.
Easy prop bets - Prop bets are not always on obscure aspects of the game. A good example is betting if the final combined score will be odd or even. You can also bet on things like which team will be up during the any of the quarters. You can bet on which team will reach 20 points first or which team or basketball player will score the most points during a quarter of the entire game. That should give you a general idea of what the more realistic prop bets are in basketball. These typically pay out 10:1 or less.
Moderate prop bets - Some prop bets can be quite difficult. A good example would be voting on which player will be voted the MVP of the year. This can be very tough at the beginning of a season but the payouts are amazing. Here is a few odds examples: Kobe Bryant +200, Dwayne Wade +800, Chris Paul +1500 & Deron Williams +5000. If you read our beginners basketball betting guide you will know that a $100 bet on Kobe would payout $200 and a $100 bet on Deron would pay $5,000. Another example of this type of prop bet would be the exact result of a series, here is an example. LA Lakers vs New Orleans Hornets: 4-0 LA - pays 5:2, 4-3 LA - pays 5:1, 4-3 NO - pays 40:1 & 4-0 - pays 150:1.
Extreme prop bets - These prop bets are the most unrealistic of them all. These will differ greatly from sportsbook to sportsbook. 1. How many times will the announcer mention a certain name, place or event. How long will it take to sing the national Anthem during the half-time show. What color gaterade will be dumped on the winning couch. There will be a range of different betting options and payouts. You can choose between payouts ranging from 1:1 to 10:1 for the most likely outcomes but the unlikely outcomes can have payouts in the xxxx:1 range. If you want to have a little fun and potentially win a large amount of money these prop bets are perfect but I would not wager much. A few $10 bets on extreme basketball prop bets can spice up a single game, a series of even the entire season. Just don't take it too far.
Sucker prop bets - These are not that common but they are offered occasionally. If a prop bet is offering a great payout on something that sounds very reasonable it is usually a very bad bet. Sportsbooks tend to know things that the average sports bettor does not. If a prop bet in basketball sounds to good to be true you should not bet on it. A good example would be something like the worst player on a team scoring more points than the best player during a certain game. The sportsbook likely has some inside knowledge that the strong player will be sitting on the bench for most the game or something of that nature.
As you can see there are some solid prop bets, some prop bets that are only worth considering because of the huge payouts and some bad prop bets that should always be avoided. Here are some of my other basketball betting guides.
NBA prop bets - who has the best proposition bets for the NBA?

Proposition bets for the NBA are available at most sportsbooks. I prefer Bodog's NBA prop bets because they have the largest selection. In fact, Bodog is the best place for prop bets on virtually every sport. They also provide the best lines. Some other bookmakers may offer better lines for one or to common prop bets in basketball but Bodog offers the best overall odds.
NCAA basketball prop bets - the best proposition bets in college basketball
Once again Bodog Sports in the best place to find NCAA basketball prop bets. They are the generally the top sportsbook for futures, parlay and prop bets for American basketball.
FIBA basketball prop bets - European & international prop betting
Europe is home to many different basketball leagues. Bet365 is the undisputed king of international basketball betting and that includes prop bets. Bet365 is one of the kingpins of sports betting outside of the USA.