Bet365 is the top online sportsbook in the united Kingdom and Europe in general. The only bookmaker on the same level as Bet365 is Bodog, the top U.S. sports book. Bet365 offers more basketball betting options than any other sportsbook because they are not limited to the NBA, NCAA and the WNBA. Bet365 takes bets on the major European basketball league FIBA. Czechs can bet on Czech basketball games and Germans can bet on German basketball games. Their basketball spreads are highly competitive compared to other bookmakers. U.S. citizens are not allowed to make real money bets at Bet365 so the recent sportsbook crack down by the U.S. government has not affected Bet365 at all. This Bet365 sportsbook review will focus on their American and European basketball betting service, but I will provide some background information on every major aspect of this popular sportsbook.
bet365 first deposit sports book bonus - everything you need to know
Bet365's sports book gives each new depositor a 100% bonus. The maximum bonus possible varies depending on the currency you use. I will list the maximums for the most common currencies after the instructions below. There are a few steps you must follow to claim this bonus.
Visit Bet365 and sign up for a free sports betting account.
Check your registered email address. Bet365 will have sent you an email containing a 10 digit code.
Make a minimum deposit of $20 or equivalent (€10, £10) and enter the 10 digit code you found in the email.
This bonus is credited to your betting account after you have wagered the amount of your deposit. For instance, if you deposit $100, you will need to make $100 in bets before your bonus is credited. Once this is done you will receive the bonus money and you can use it to start betting on basketball right away. If you deposit $50 and bet $50 on a game you will have met the requirements and the bonus will be credited. The maximum size of the bonus will vary by currency. Here are a few examples; $200, €100 and £100. To cashout bonus money or money won through wagers that you made with the bonus money you will need to make a certain amount of wagers first. I have explained how this works below.
You will need to wager 3X your deposit and bonus to cashout any bonus money. If you deposit $100 and place $100 in bets you will then receive the $100 bonus. If you bet that $100 on next week's games you would have cleared 33% of the bonus.
This bonus is large, but it doesn't have all of the restrictions and fine print commonly associated online sports book deposit bonuses. They offer a rewarding bonus with reasonable wagering requirements that are designed to discourage bonus abusers without bothering the average punter.
bet365 live - in-Game basketball betting at bet365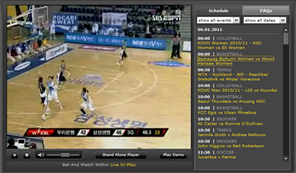 You no longer need to bet with a buddy while watching your favorite basketball teams. You can watch the game through Bet365's live platform which enables you to bet on real time events like a player making his second free throw or a team scoring a point in the next 20 seconds. Bet 365 Live offers a wide range of real-time prop bets during most basketball games. Bet365 and Bodog each offer a live, in-play betting service that other sports book can only dream about. The lines are constantly updated in real time while the game is being played so the bookmakers will offer +EV lines quite often. You won't have time to do any research, but neither will the person posting the odds. This form of turbo sports betting is very new and can be much more profitable to the average bettor than traditional sports betting. It is fun as well. I do well during the high pressure nature of in-play betting. If you are no good at making quick decisions you may want to stick to Bet365's regular betting service. If the stress doesn't bother you then this is definitely something to check out. It certainly makes every game a thousand times more exciting.
NBA & WNBA & NCAA Basketball Betting At bet365
Everyone loves the NBA. Europeans, South Americans, Asians and I'm sure even aliens in outer space watch and bet on the NBA. Bet365 offers a comprehensive NBA betting service that includes many types of wagers. Sports bettors from around the world use Bet365 to make bets on the National Basketball Association. The NBA action at Bet365 is not limited to a few games and a few different bets. They offer nearly as many betting options as Bodog, the major U.S. sportsbook. Bet 365 also has a WNBA book for those of you that enjoy betting on the ladies.
FIBA basketball betting at bet365
Bet365 offers action on virtually every major basketball team or league throughout the world. Bet365's and the International Basketball Federation have been working side-by-side to provide the best basketball betting service in the world. Eurobasket betting is very popular throughout Europe and Bet 365 offers some of the best odds available offline or online. They have been on of the top basketball sports books for many years.
Bet365 basketball betting interface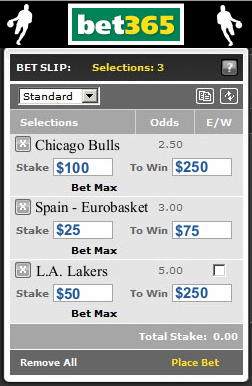 Bet365 uses an intuitive betting slip interface that allows punters to easily and quickly place wagers on basketball. Since Bet 365 accepts bets on so many different regional basketball games they needed a betting interface that would allow bettors to easily find the games they want to bet on and place their wagers. That is exactly what Bet365 did. On the left side of the screen there will be a list of sports. Click on "Basketball" and a menu will display in the middle of the screen. There are too many games and events to list on one page so they use a collapsible menu. Find the basketball game or event you are interested in and click on the arrow to the left of the name.
That will make a new menu appear under the game or event you selected. This menu has the various betting options. From there you will only need to select which types of bets you are interested in. Bet365's betting interface displays all of the statistics and odds information you will need to make a bet. As you make your picks they will be added to the betting slip, as shown to the right. Once you have finishing making your picks you will just need to specify how much you want to bet.
In the "Stake" box you will enter how much you wish to wager. The team you picked previously will already be displayed there. This really cuts down on mistakes and wasted time. The odds for your wager will also be listed. The bet slip at Bet 365 will automatically do the math and display how much you will win in the "To Win" box. Once you have finished making your bets you just need to click the "Place Bet" button on the bottom right of the bet slip and follow the directions. This betting interface makes it nearly impossible to accidentally make a bet on a basketball game.
NBA, NCAA & WNBA Parlays at bet 365 - 5-50% bonuses!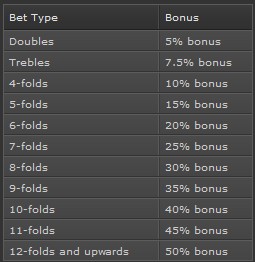 Parlays on American sports like NBA, WNBA and NCAA basketball at Bet365 offer a much higher payout than similar bets at other sports books. You can receive a parlay bonus ranging from 5% to 50% on American basketball parlay bets at Bet365. They are the only online sportsbook to offer anything like this. As you can see from the image to the right when you pick a 2 team parlay and win you will receive ax extra 5% plus the normal parlay payout. An 8 team parlay wager on the NBA, NCAA or WNBA will pay out an extra 30%. The highest is 50% and is available on winning 12+ team parlay wagers.
If you place regular parlay bets on any form of American basketball you are basically throwing money out of the window if you are not giving your action to Bet365. Cory, a Canadian basketball betting enthusiast, recently made a $100, 12 team, NBA parlay wager at Bet 365. The parlay paid $199,306, but because of this promotion Cory won an additional $99,603. When you make parlay bets in basketball you want to give yourself the best payout possible. Bet365 is the undisputed king of parlay betting on American basketball.
Bet365 sportsbook promotions
Bet365 likes to reward their sports bettors, especially basketball bettors, by hosting promotions. The promotions at the Bet 365 sports book change every month, but basketball bettors can usually find one or two specifically designed for them. Sometimes they will give bonuses to successful bets on a certain sport. They have a promotion running right now that promotes their new mobile betting service. When you make a deposit through their mobile sportsbook you will receive a 100% match bonus up to $100. This is perfect for basketball bettors on the go. Promotions like this change on a regular basis so you will have to signup and see what is currently being offered for yourself.
Bet365 sportsbook - what else can I bet on?
Bet365 accepts action on every major American and European sport, as well as many obscure sports. There really are too many to list so I will just provide a general overview. Bet365 does not limit itself to European sporting events. They offer just as many lines on American sports as the average U.S. sportsbook does. Americans may not be able to open an account at Bet 365, but that doesn't mean non-U.S. citizens do not want to wager on NBA or the NCAA Mens Basketball events. Most countries in Europe have developed their own specialized sport. The world in general may not think some of these are actual sports, but the people that play them certainly do. You can even bet on the lotto at Bet365. Use the link below to visit Bet365 and view the complete list of sporting events that you can bet on.
bet365 history - credentials - awards - licensing - company profile
Bet365 is a super-power in the world of online gambling. They offer many different products online and are at the top of the industry for each one. Their group has over 3,000,000 online customers around the world. They have over 1,000 employees that work hard to ensure you are taken care of. Here is a basic company profile for Bet365.
Established: 2001
Corporate offices : United Kingdom
Licensed by: U.K. Gambling Commission
Customer Service: 1-866-333-3238
Bet365 is licensed and regulated by the British government so they score the highest possible marks for trustworthiness, security, financial stability. The Bet365 sports book has won many awards during the last decade. Here is a list of some of these awards.
Editors Note: GOM discontinued their awards service in 2009.
ERG - Best Online Gambling Company - 2010
ERG - Best Website Features - 2010
GOM - Best Online Sportsbook - 2008
GOM - Best Sportsbook Customer Service - 2007
GOM - Best Sportsbook Customer Service - 2006
If I had listed the awards that Bet365's poker room and casino has won this page would be twice as long. Perfection is Bet365's goal on all of their Internet gaming products and so far they have met their goals. Here is a list of the other major online gambling services Bet 365 offers other than sports betting:
Poker room - The Bet365 poker room has peak traffic that exceeds 75,000 players.
Casino - Bet365's casino was voted as the Internet's #1 casino in 2010.
Bingo - Brits love their bingo and no one does it better than Bet 365.
Skill Games - Bet365 is home to the premiere skill game room online today.
For ex - Who needs a money management company when you can handle everything at Bet365.
Horse Betting - Bet365 offers the most popular horse race betting service in Europe.
You would need 6-7 accounts with 6-7 different companies to do the things you can do with one account at Bet 365. This web site focuses on basketball betting but Bet365 is so much more than that.
Banking At the Bet365 sports book
I'm going to keep this shot and sweet. Banking is an issue for American sports bettors, but for Europeans it is not an issue. Bet365 accepts every major deposit method and many uncommon ones. You will never have a problem depositing or cashing out of your sports book account at Bet 365. Here is a list of the deposit options at Bet365.
Credit/Debit Cards - Min: $5, Max: $20,000
Neteller - Min: $30, Max: $20,000
Paypal - Min: $10, Max: $5,500
Moneybookers - Min: $5, Max: $7,000
PaySafeCard - Min: $5, Max: $800
Entropay - Min: $10, Max: $20,000
UKash - Min: $1, Max: $500
Click2Pay - Min: $25, Max: $99,999
Bankwires - Min: $100, Max: $30,000
Check - Min: $100, Max: $50,000
Fast Bank Transfer (echeck) - Min: $1, Max: $99,999
You can cash money out of your Bet 365 sports book account using almost every method listed above. The minimum and maximum limits are a little different so I suppose that means that I have to create another list for it. I have also listed the processing times.
Credit/Debit Cards - Min: $5, Max: $20,000 - 1-3 days
Neteller - Min: $30, Max: $20,000 - 1 hour
Paypal - Min: $10, Max: $5,500 - Within 24 hours
Moneybookers - Min: $5, Max: $7,000 - Within 24 hours
Click2Pay - Min: $25, Max: $99,999 - Within 24 hours
Bankwires - Min: $100, Max: $30,000 - 2-10 days
Check - Min: $100, Max: $20,000 - 2-28 days
Fast Bank Transfer (echeck) - Min: $50, Max: $20,000 - 1-3 days
All of the deposit and withdrawal methods at Bet365 are free. Other sports books can charge up to $50 for a bankwire, but Bet365 covers all costs. They are also the perfect bookmaker for high stakes basketball betting. Many sportsbooks put small limits on the amount you can cashout each month when you win big. Bet 365 will pay you in full without giving you a hassle.