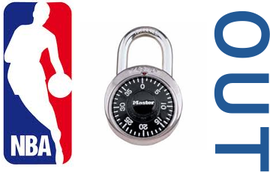 The latest NBA lockout news is grim. Talks collapsed today amidst petty allegations and the Federal mediator George Cohen was powerless to prevent it. NBA players stormed out of the talks and there are no more talks currently scheduled. The players' union claims that the owners essentially said that they would only accept a 50:50 split. They took that as an ultimatum and walked out. There are many accusations floating around right now. Some say that NBA Commissioner David Stern is at fault for the latest drama.
More regular season basketball games will be cancelled due to today's events. The players want 52.5% of the profits but the average owner loses money each year so owners can't go any higher than 50%.
The NBA games that were previously cancelled cost players and owners $170 million is revenue so at this point the players would do better accepting the 50%.
With no new talks scheduled the NBA will have to cancel some more games. The greed shown by the players in the NBA is simply unbelievable. At this point I hope that the NBA does not cave in and give these corrupt players billions of dollars.
Online betting sites