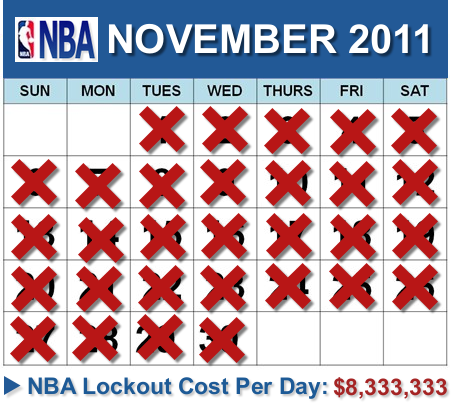 The 2011 / 2012 NBA basketball lockout has turned into a game of chicken. The owners and the players union are speeding towards each other doing 200 miles per hour and there can be only two outcomes. The first is one of the parties swerving off of the road. The NBA lock out has turned into a gamble and neither side appears willing to be the first to cut their losses and capitulate. Sometime has to happen soon and I expect that it will be the NBA players union that caves in.
The other option would be a collision which would essentially mean that this lockout will continue unabated in 2012 and the entire NBA season may be canceled. Last week negotiations were halted and accusations were thrown around. This has lead to the cancellation of over 100 regular season NBA games. More games have since been canceled and each one costs the NBA, the players and local business millions of dollars. The NBA basketball lockout has already cost $350 million dollars.
Players want a 52.5%-48% split in NBA profits while the owners want 50%-50%. The extra 2.5% is only worth around $110,000,000 so the National basketball players union must not be that good at math. If my calculations are correct $250 million is higher than $110 million, meaning that if the basketball players stopped acting like greedy children a month ago and accepted a 50:50 split they would have made more money than is the owners agreed to give them the 52.5% today.
November NBA Basketball Games Canceled
All regular season NBA games scheduled in November have been canceled due to the lockout. This lock out is costing both players and owners $8,333,333 every single day in November.
This figure does not include the tens of millions of dollars lost in indirect sales at business across the country like Morettis Pizzeria, located near the United Center, home of the Chicago Bulls. This lockout is hurting everyone from local governments to Susan Taylor, a waitress and single mother who lost her job due to the loss in pre-post game business.
Post-Lockout – Can We Extend The Season?
If the basketball lockout is resolved soon there has been talk of the possibility of extending the 2011-2012 regular season to make up for lost games. NBA Commissioner David Stern crushed any hopes of that happening today:
"It's not practical, possible or prudent to have a full season now," – David Stern
It amazes me that Stern still has his job. Every time he makes a statement it is negative. He loves sharing his negative outlook for the NBA lockout. He has even purposely sabotaged negotiations between players and owners. A good attitude and a positive outlook would have gone a long way but Stern has been the complete opposite. That sums up the NBA basketball lockout news that came out today. You can still bet on FIBA (international basketball), college basketball and other sports. I've personally had a great season in the NFL:
Lost bets: $11,350
Winning bets: $18,975
Profit: $7,625
Online betting sites