NBA weighs retroactive penalties for floppers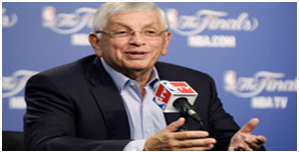 David Stern has decided to stop floppers in basket ball by imposing fines on them. The commissioner of NBA committee has an opinion according to which too many players falling on the ground to deceive referees spoil the game. He as well as reformed committee of NBA competition recently had an important discussion about preventing floppers. According to David Stern doing post game analysis is a good option to prevent violating action of floppers. The league committee is ready to upgrade or downgrade fouls after taking them into review. David Stern said that a flopper player may receive a warning from New York NBA office and might receive status of a flopper. He may have to pay penalties for intentionally falling on the ground to save points. David Stern added that it is not a joke; he wanted to know people to know that flopping is a serious offence in a basketball court.
The NBA league committee comprised renowned basketball coaches like Lionel Hollins from Memphis, Rick Carlisle from Dallas and Doc Rivers of Boston. This committee also had renowned people as its members like Joe Lacob from Golden State, Dan Gilbert of Cleveland and general managers like Sam Presti from Oklahoma City. Some other basketball managers like Kevin O Connor from Utah and Bryan Colangelo of Toronto have also been included as members of the NBA league committee. A 6 hour meeting was held by the NBA league committee. The members of the committee discussed about goal tending and replaying foul. They came to the conclusion that lottery system is the best one. It appeared to abandon the rule of foul ball. For this reason the committee came to the conclusion that coaches could fine those players who played the role of floppers in a basketball court.
David Stern the commissioner of NBA committee recommended that decisions taken by the NBA league committee will have to be approved by the Board headed by league governors. The next meeting of NBA league committee will be held in the month of July. David Stern hopes that a policy will be formulated soon to stop the practice of flopping during basket ball matches. He believes that the ill practice of flopping has been adopted by players to trick referees. Stern added that players of basket ball should be able to realize that flopping is an ill practice. It should be discouraged during the game. Stern also warned that players believing in the ill practice of flopping should realize its ill consequences. He said that he and members of NBA league committee wanted to take beneficial decisions for NBA players which may not hamper their progress in the game.
David Stern also discussed about enabling replay of all foul actions on the basketball court. He suggested referees to fine players for severe flopping actions. He told that gaming referees could impose 2 penalties to stop flopping actions on the playing court. David stern suggested that players and referees should follow all standard rules of goal tending that enables a defensive player to stop the ball to go inside the rim.  David Stern feels bad about those basketball players who are being put into pressure due to floppers from the opposing team. Yet he also feels sad that floppers may be fined or taken off from the team by their coaches. David stern hopes that all rules and regulations should have a common aim. He said that coaches and referees should be cooperative in the task to stop floppers from displaying a foul game.