Joe Hachem
Joe Hachem was born in 1966 in Lebanon and lived there until he was just six years old which is when his family moved to Australia. Joe lived in Australia for most of his life and still lives there now as he resides in Melbourne. You may have noticed that he has an Australian accent when he talks and this is because he grew up there and not Lebanon which is where he was born. Hachem graduated from school and then he started working as a chiropractor. After working as a chiropractor Joe needed to retire due to a blood disorder which is when he started working on his poker game.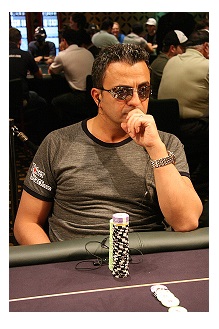 Hachem quickly became an excellent cash game poker player and earned a lot of money from the very beginning of his poker career. After playing cash games for a few years Hachem started entering many of the big poker events. In 2005 Joe finished in tenth place in a $1000 NL Holdem WSOP Event winning just over $25,000. The same year Joe continued his success and shocked a lot of people by winning the 2005 $10,000 NL Holdem WSOP Main Event bracelet which is currently his only WSOP bracelet. Hachem won a total of $7.5 million from his first place finish in the WSOP main event and assured his spot in poker history.
Joe Hachem is sponsored by the Team and sometimes you will see him playing online in the Poker Stars room under his alias. In 2006 Hachem continued dominating the poker scene and managed to earn himself a pair of final table appearances in the WSOP and his first WPT title. Hachem has a total of one WSOP bracelet and one WPT title in his career thus far, but he should win more in the years to come. Hachem also finished in the money nine times in the WSOP and three times in the WPT. Joe also finished in the money once so far in his career on the EPT circuit.
Joe Hachem has appeared on multiple television shows in the past few years including Poker After Dark, Poker Superstars III and a couple other shows. Joe isn't the most outspoken player in poker, but he does like to have a fun time at the poker table and he is also always dressed to impress. Joe may also have a movie based on his main event bracelet win in 2005, but nothing has been finalized yet.
Hachem has made over $10,000,000 in tournament winnings over his career with most of that coming when he won the 2005 main event championship. Joe currently sits third place in history for the most live tournament winnings by any player only behind Daniel Negreanu and Jamie Gold. For a full ranking of live tournament poker players, visit this site. We have seen Joe Hachem compete against the best players in the world on the poker tables and he always has a chance of winning the event. He can handle any playing style and he has exceptional reading skills and often can tell when a player is bluffing and when a player has a good hand which is what makes him so good.