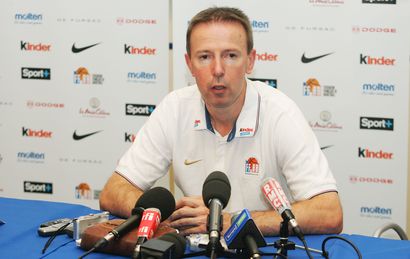 Basketball betting fans have something, even if it be a small something, to look forward to. The duo of Patrick Beesley and Vincent Collet would be arriving in the US in the coming days. France had decided on sending their national team director, Patrick Beesley, along with the national coach Vincent Collet to meet the players before they start off with Olympics.  The French national team had done enough to get their hands onto a spot at the London games. The Les Blues were able to make it to the Finals of the EuroBasket 2011 last September in Kaunas, Lithuania.
The French National side had a dismal decade in the Olympics, with their team never appearing the Olympics since the 2000 Sydney games. Ironically the team slipped to oblivion after having won a silver medal at the Sydney Olympics. The French are gearing up for this Olympics, and for that reason the duo are intending to meet up with key players, the likes of Tony Parker( San Antonio), Nicolas Batum(Portland), Boris Diaw(Charlotte) and Joakim Noah(Chicago). Beesely and Collet are intending to make their trip during end of February, it is scheduled to be (as of now) between 24th Feb and 3rd March.
The Olympics are slated to kick off from the 27th of July and the French team seems to be on their toes this time, trying to make up for the long medal drought in basketball at the Games.
On other basketball news, besides Olympics, Mickael Gelabale has plans of signing a new contract with BC Khimki Russia. The move was supposed to have taken place last December, (though fans had been in the dark about it until Christmas), the transfer did not go through on medical grounds, since Gelabale had injured his ankle last season and it hadn't healed completely in December.
Online betting sites