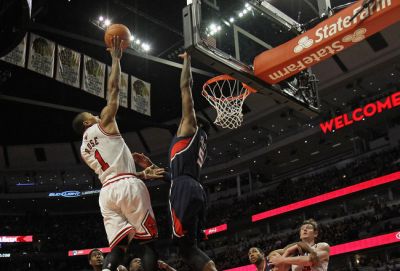 Chicago bulls drove in deadly their horns into the Pistons. They made their presence felt at the court by defeating the Detroit Pistons by a big margin of 92-68. They had lost out at Atlanta prior to this game. Miami Heat may be facing the heat now with the Bulls moving in ever closer with 8-2 in this season. The duo's (Carlos Boozer and Derrick Rose) effort sealed the victory when they picked up 45 points for their team.
In betting basketball, the Chicago Bulls are at 6.00 and with no one rooting for Detroit's win, they are at 201.00.
Atlanta Hawks defeated the Lakers at home, and then went on to pick up their third back to back victory against the Nets in an away match at New Jersey. Their star Josh Smith bagged himself and his team 26 points while all the five from the Hawks showed fine form as all made into double digits.
As usual, Philadelphia 76ers has not been defeated at their home turf. They continue their dream home run as they defeated Indiana Pacers with 96-86. But their dream run was ended today by the New York Knicks 85-79. The 76ers couldn't beat New York Knick's sturdy defense throughout the match.