Basketball Player Kendall Marshall
Born on August 19th, 1991, basketball player  Kendall Marshall grew up in the town of Dumfries, VA, a suburb of Washington DC. His skill as a basketball player was quickly established during his middle school tenure, where he frequently scored at least 20 points per game. Although this in and of itself was an accomplishment, it was a mere foreshadowing to the high school and collegiate performance that this young player would deliver.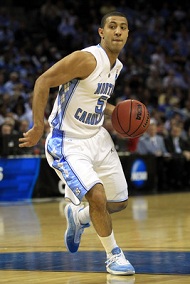 After his illustrious middle-school debut, Marshall attended Bishop O'Connell High School in nearby Arlington, VA, a notorious powerhouse for high school basketball. This institution has graduated over 30 players in the last ten years who have gone on to prestigious college careers. Included in these players was Marcus Ginyard, a fellow University of North Carolina Tar Heel.
While in high school, Kendall Marshall quickly rose to the top of his team. He averaged over 15 points, 9 rebounds, and 6 assists his senior year at Bishop O'Connell. These feats earned him a coveted spot on the McDonald's All-American Team in spring of 2010. The All-American team roster has included such NBA greats as Michael Jordon, Jason Kidd, and LeBron James, to name a few. In the spring of 2010, Kendall Marshall graduated from high school, but not before winning a Virginia Independent Schools Division 1 championship and taking his team to the semifinals of the Washington Catholic Athletic Conference. This loss is a minor footnote on what is sure to become the story of one of the greatest players to matriculate from this academy.
Kendall Marshall went on to play basketball at the University of North Carolina, where he has yet to declare an academic major. Academics aside, the college is known for being home to one of the most revered teams in college basketball. In addition to winning five NCAA championships, the program is also known for is vociferous rivalry with Duke University, located only 25 minutes away. Marshall managed to enter the starting lineup as a Point Guard during his freshman year, replacing Larry Drew II. Standing at 6'4" and weighing 195 pounds, his stature made him an obvious candidate for this position for the Tar Heels. In the weeks following Marshall's assignment as starting guard, UNC advanced to the Light 8, losing only 3 games. His ability as a guard was most evident in his performance against Florida State on February 6th, 2011 during which he was responsible for 12 assists, with only 3 turnovers, silencing any critics of this young star's ability.
From a coaching standpoint, Kendall Marshall has been lauded for his "basketball IQ" and his ability to control the pace of the ball. Since the infancy of his career, he has been known to prefer to pass rather than take shots. This ability to spread the ball across the court has not only earned him the nickname "butters" from his peers, but has also generated some criticism that Marshall lacks visceral aggressiveness on the court.
The largest moment of media spectacle in Marshall's collegiate career came after the Tar Heel's February 8th loss to ACC rival, Duke University. With only 2:38 left to play, UNC managed to loose a 10-point lead to the Blue Devils. The final seconds of the game culminated in a three-point game-winning shot from Duke's Austin Rivers. During a subsequent interview, Marshall expressed frustration at the amount of media coverage that the buzzer beating shot was receiving. He was quoted as saying: "[I watch] Big –Ten games, and they're showing the shot and I was like 'all right, I've got to get away from college basketball.' So I watch a Boston Celtics game, and sure enough, they showed the shot again." Despite his minor gripe, Marshall took this defeat in stride and continues to exhibit prowess on the court for the Tar Heels. Despite his age, Marshall has already acquired a good number of accolades from the ACC conference for his freshman year. He was awarded 3rd team All-ACC for the 2011 season, in addition to being named for the 2011 All-ACC Freshman team. Kendall Marshall is currently a sophomore at the University of North Carolina. If his play thus far wasn't enough of an indication of future success, in September of 2011 Marshall was listed as number 19 of the top 100 prospects for the NBA draft.