Basketball Player Thomas Robinson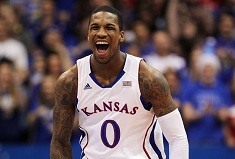 Thomas Robinson is a college basketball player for the Kansas Jayhawks. Towering over everyone else on and off the court at 6 foot 10 inches and a 7 foot plus wingspan, Robinson is a Junior at Kansas University. He was born on March 18, 1991 and went to high school at Brewster Academy in Wolfeboro, New Hampshire. He earned several honors while there, including first team prep school All-American, A Parade All-American selection and Reebok All-Star selection. When he was a junior, he went to Riverdale Baptist High School in Upper Marlboro, Maryland. He was rated the number 7 power forward in the class of 2009 by Rivals.com and was rated number 24 by Scout.com.
Robinson's full name is Thomas Earl Robinson. He was born in Washington D.C. to the late Lisa Robinson. He has three brothers and sisters who attend his games as often as possible. He is a very tough player both inside and outside – when his mother passed away in 2011 he wanted to continue playing and only sat out one game.
He is a fantastic rebounder. He shot 60% from the field last year. He gets most of his shots by crashing the offensive glass then cutting to the frame. His strong build and quick and aggressive style enhance his jump shot capabilities. He can get to the free-throw line quicker than most of his opponents and it will be interesting to watch how his speed helps enhance his career. He is a great defensive player and is a superb per-minute rebounder. He also has a great rate for blocking shots though has to watch himself to not get so many fouls. He is still gaining experience and is a limited offensive player. He does not possess great ball-handling skills and is not a great perimeter jumper. He needs to work towards being able to create his own shots.
As a sophomore he averaged 14.6 minutes in 33 games with two starts. He was the Jayhawks' most productive player off the bench, averaging 7.6 points and 6.4 rebounds per game. He was the leading rebounder for Kansas in nine games. He was selected as one of ten finalists for the VFoundation Comeback Award. He was the Phillips 66 Big 12 Player of the week in the 2011-2012 season, and won the Oscar Robertson National Player of the Week on December 11, 2011. He pulled down a career high 14 rebounds in Kansas University's Sweet 16 win over Richmond.
Robinson aspires to become a CEO of a Fortune 500 company or play for the NBA. He says he would work his way up from the bottom as long as he believes in a company and feels they are ethical. He admires companies that help inner-city children and has always spent some of his free time volunteering with the Big Brother/Big Sister organization. He feels it is important for inner-city children in particular to have a male figure in their lives to look up to – not in height, but in respect. He states that many inner-city children do not have a strong male figure in their lives and he is happy to provide that role to as many kids as possible.
His favorite subjects in school include business and psychology. Robinson jokes that sometimes he has to rebound not just on the court, but also in some of his classes after taking an exceptionally difficult test. He feels that at times it can be difficult to balance school work with sports – a very common problem for college athletic students! And yet he loves the classes in psychology that relate to children and to the poor and continues to study these subjects and how he can make a difference in the world that both matters and is lasting.