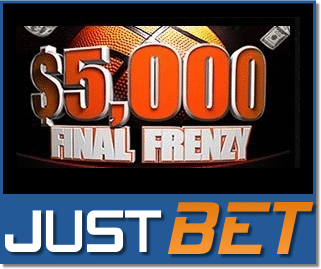 I recently made a post about the March Mayhem contest running at JustBet. This is one of the hottest promotions running during the 2012 March Madness. JustBet is running another equally cool promotion that I wanted to share with you. The Final Four Frenzy Sweepstakes at JustBet is taking place right now and $5,000 is up for grabs. This promotion is open to all U.S. and Caribbean citizens and you can claim your entry up until March 15th. Here is the qualification and prize info:
Sweepstakes Entry – All you need to do to receive an entry into the Final Four Frenzy sweepstakes at JustBet is deposit $250 by 03/15/2012.
Prize – The randomly selected winner will receive a trip to the Brackets Final for two people. This prize package is worth $5,000. The money will be paid to your Justbet account so you can choose your own travel and accommodation methods.
The $5,000 Final Four Frenzy Grand Prize is not a bonus. You will be able to instantly cash it out without any hassles. JustBet will hold the sweepstakes drawing on March 26th. This $5,000 March Madness prize package is every basketball bettors dream. Just Bet strongly suggests making sure that your email address and mobile phone number associated with your sports betting account is up to date as they will be using these methods to contact the winner.
JustBet is popular destination for NCAA and NBA basketball betting enthusiasts. They are open to Americans and boast some excellent lines. Most online sports books offer a small deposit bonus and few, if any, promotions. These two March Madness promotions alone add up to $10,000 in free prize money and JustBet offers several other decent promos.
They also offer one of the best sports betting deposit bonuses in 2012. JustBet will give you a 50% bonus on your first AND second deposit. You can also claim a $10 free-bet when you try out their mobile betting platform.
Who To Bet On – Josh's NCAA Basketball Picks
After depositing $250 and claiming your entry into this sweepstakes you will likely want to place a few wagers. If you can manage to place a decent number of winning March Madness bets you could win some money through the March Mayhem contest. I have some picks I wanted to share with you that may help you win some money during this special time for basketball fans. JustBet is offering some great action on the NCAA basketball games being held today. Here are a couple of the lines I am personally betting on:
03/08/12 – Nebraska (+9.5) Vs Purdue (-9.5) – I like Nebraska in this match-up. I think that they can easily stay within 9.5 points.
03/08/12 – UC Davis (+19.5) Vs Long Beach State (-19.5) – Once again I like the underdog. 19.5 points is an insanely large spread even in a match-up like this one.
If you are competing in JustBet's March Mayhem contest I have a tip for you. I suggest not placing any wagers higher than $10 since that is the minimum limit they are counting. The $250 deposit requirement for the Final Four Frenzy could add up to 25 wagers if you bet $10 each. Only winning wagers are counted but placing bets in bulk will give you better odds and you will still be able to re-wager your winnings.
Other March Madness News
Bet365 is also running a decent March Madness promo. You can find more detailed information about the Bet365 March Madness promo by clicking the previous link. Bet365 is one of Europe's top sports books and they take action on all major American sports including the NBA and college basketball.