2012 USA Basketball Men's U17 World Championship Team Finalized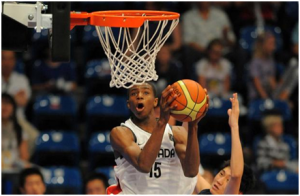 The USA basket ball men's team for U17 championship has been finalized. This team was finalized on the morning of Tuesday after the team had completed its seventh practice since 15th June.  The men's basket ball team is featuring 12 best players who have well prepared for the basketball championship. These players are 17 years of age; some of them are even less than 17 years of age. The squad of USA is going to spend two days at the training center of Olympics in Colorado Springs. The training will be imparted to basket ball players to win the FIBA world championship going to be held in the USA. The FIBA U17 championship 2012 is going to be held on 29th June at Lithuania in Kaunas.
The players selected in the team of men's basket ball for U17 basketball championship 2012 are Justise Winslow, Johnathan Williams, Jabari Parker, Jahlil Okafor, Kendrick Nunn, Tyus Jones, Stanley Johnson, Dakari Johnson, Conner Frankamp, Stephen Domingo, Joel Berry and Beejay Anya. Don Shwalter the head coach said that he has full confidence in the new team; this team had the caliber to win amidst pressure. Don added that the players of men's basket ball team had the practice to play against defensive pressure. This was one of the most positive points of the men's basket ball team. Don told that rebounding is another plus point for men's basket ball team. The team was well trained in displaying an offensive game. Don Shwalter revealed that he had worked on training of the team for a couple of days and he is confident that the team will play a nice offensive game.
Don Shwalter revealed that he had also imparted a special training to the men's basket ball team last year in the month of October. He told that the timing of making an offensive play and defending the court point has been kept as the main goal for the team. He added that the team has showed a good performance in all styles of defensive and offensive playing. Don Shwalter said that he had spent a lot of time on working with the team. He carefully chose the 12 players after minutely judging their playing caliber. The selected players have familiarity with each other in the basket ball court. They behave with each other in a friendly way outside the basket ball court. Mutual cooperation helps players to develop team spirit among them. Don Shwalter told that he did his best to develop team spirit in the men's basket ball team before taking it to Lithuania.
The latest news is that before arriving in Lithuania USA will be training the men's basket ball team to compete in U17 2012 championship going to be held between 22nd to 25th June at Canary Islands. During that period US will also take part in U17 basketball championship held in 2012 at Spain. This champion ship will be played by the US men's basket ball team against basket ball team of Australia. The U17 FIBA World Championship will be held on 29th August in the year 2012. The US men's basketball team will play against Australia on 29th July. It will play against Czech Republic on 30th June.  This team will play basket ball against Egypt on 1st July. Top winning teams of this championship will enter quarter finals, semi finals and finals on 6th, 7th and 8th July respectively.