Also takes out a massive victory parade through the city
Each player of Miami Heat greeted the National Basketball Association (NBA) championship trophy in a special way.
While Mike Miller bowed to the NBA championship trophy that was center stage, sitting on an elevated dais, Udonis Haslem kissed it a total of three times.
Chris Bosh gave the trophy a tight hug, and LeBron James strolled past it before waving at the horde of fans.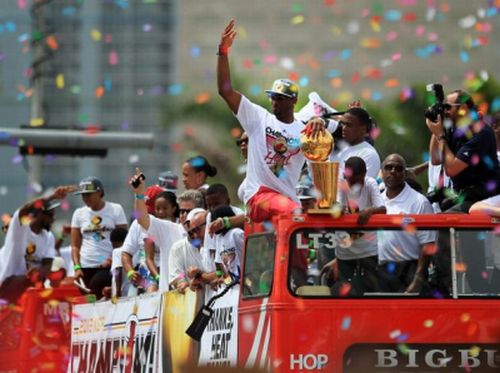 Dwyane Wade's greeting for the trophy was somewhat different from others'. He appeared with a pair of fake eyeglasses and slipped the frames onto the neck of the NBA championship trophy.
Miami Heat president Pat Riley, the team's coach Erik Spoelstra and managing general partner Micky Arison were also seen putting on the black goggles at different points during the party.
James, Wade and Bosh on Monday enjoyed their time together with a celebration parade for the Heat championship. Streets of Miami were packed with as many as 400,000 people for the Heat championship parade, and around 15,000 more fans entered into the arena to witness a long, thunderous reception for the NBA's new kings.
Speaking about the Heat championship parade, James said, "It's the best feeling I've ever had. … This was my dream, right here, to be able to hoist that Larry O'Brien Trophy up, hug it, grab it, and never want to let it go."
During the Heat championship parade, Miami Heat players and coaches along with their friends and families were on double-decker buses. While some of them capturing photos and video of the parade, many others were waving hands to the crowd. Other members of Heat staff were on flatbed trucks, as horns were blaring on every step of the way.
Miami Heat, whose mascot is Burnie, an anthropomorphic fireball, was formed in the year of 1988 as an expansion franchise. Since joining the league, Miami Heat has fielded squads that have made the playoffs sixteen out of twenty four seasons, capturing nine division titles, three Eastern Conference Championships, and two National Basketball Association Championships.