But father Sulligan is confident of son's chances in the NBA
Jared Sullinger, Former Ohio State basketball star, will not be able to watch Thursday's NBA (National Basketball Association) draft in the green room in Newark's Prudential Center as NBA has declined to invite him to draft.
NBA Executive Vice President, Stu Jackson confirmed that they decided not to invite Sullinger to the draft after the league received reports that Sullinger would not be selected in the top 15.
Speaking to ESPN.com, Jackson said, "He's more likely to go in the teens or in the 20s. We continue to have contact with teams, but at this late date we don't anticipate inviting him."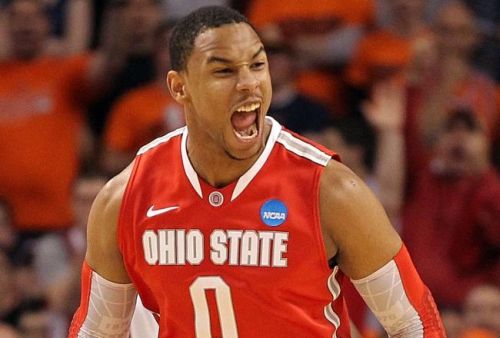 Jackson also revealed that the official list of players who would be invited to green room to watch Thursday's NBA draft would be released on Tuesday, while the players would be notified by late Monday as they would have to be in New York by Tuesday night.
Last week reports emerged that a number of teams flagged Sullinger's medical reports after the Chicago pre-draft camp due to of a disk problem. Jared's father and high school coach in Columbus, Satch Sullinger, admitted that his son had muscle issues, but turned down reports that claimed his son had a disk problem.
On Monday, Jared Sullinger worked out for Detroit that picks ninth.
Satch Sullinger stressed that NBA's decision of not inviting Jared to green room in Newark's Prudential Center would not discourage his son. He said Jared would definitely play in the NBA, whatever number he goes will not matter at all. Satch said he hoped that Jared would go to be like a top five pick in the NBA. However, he admitted that Jared canceled a workout in Cleveland previous week since the family did not see how Jared could be taken at Number four.
Satch Sullinger added that his son has worked out for New Orleans for number ten pick, Portland for number eleven pick, Golden State for number seven pick, though the Warriors also have number thirty.
In December last year, Sullinger had to miss a road game at Kansas as he had dealt with back spasms, but he succeeded to lead the Buckeyes to the Final Four.
Founded originally as the Basketball Association of America (BAA) on June 6, 1946 in New York, the NBA is the pre-eminent men's professional basketball league in North America. The league adopted the name of National Basketball Association (NBA) in the year of 1949 following its merger with its rival league called National Basketball League. The NBA is of the four major North American professional sports leagues.
It is comprised of a total of thirty franchised member clubs, of which twenty-nine are situated in the United States and one in Canada. The league is an active member of United States of America Basketball, which is recognized as the United States' national governing body for basketball by the International Basketball Federation. When it comes to average annual salary, NBA players are the world's best paid sportsmen.
Born on March 4, 1992, Jared Sullinger announced at a press conference on April 4 this year that he would be leaving school to join the 2012 NBA draft. In his senior year, he led Northland High School to a 21-0 season and a no. 1 national ranking. He was selected to play in the 2010 McDonald's All-American Game in Columbus, where he was named co-MVP with Harrison Barnes.