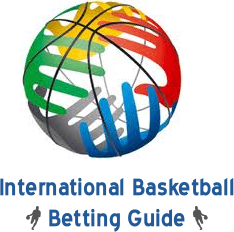 Betting on the NBA or college basketball is fine and good but how many of you bet on international basketball games? International basketball betting can be very lucrative and if nothing else it is a pleasant break from traditional U.S. league betting. People usually associate basketball with America but this sport is popular around the world and there are some very good players in Europe. I have some tips on FIBA betting that I want to share. Not all sports books accept bets on international basketball games but there are a few that do. Out of these few books Bovada and Bodog are definitely the best.  Bet360.net recently gave the Bovada sports book the highest grade possible in regards to non-US sports betting.
What Is FIBA? International Basketball FAQ
FIBA stands for the International Basketball Federation. It is Europe's NBA in a sense. In the USA pro basketball teams are centered out of States. The thing that makes FIBA basketball betting so attractive is that the teams are centered on entire countries. Imagine is we took all of the best players out of the NBA and created a USA basketball team, kind of like the Dream Team. Now imagine that the U.S. basketball team would compete against teams from other countries.
FIBA was founded in 1932 and the NBA wasn't created until 1946. Americans mistakenly think that the NBA is the oldest and best professional basketball league in the world. Many even think that an American invented basketball.
Why Bet On International Basketball?
International basketball players are nothing like the spoiled, selfish, greedy players in the NBA. FIBA players are equally skilled and they have not been corrupted by $20,000,000/year contracts. Betting on FIBA has several unique advantages:
More games and teams – FIBA is home to 213 teams from around the world, not just Europe. This gives you more options and opportunities to place bets.
Healthier competition – The NBA is full of players who only care about their personal stats and how they can use them to make even more money. FIBA basketball players are much more team-oriented and this makes for better games. For them it is about national pride, not vanity.
Better lines – Handicappers have a much harder time creating lines that truly represent the odds. FIBA basketball bettors not only have more games to choose from but they also have better lines to choose from.
International Basketball Betting At Bovada & Bodog
As I previously mentioned Bovada and Bodog are the best places to bet on FIBA basketball. The lines they put out are generally more advantageous to the bettor than you would find at a UK bookmaker. Sports bettors from the USA will need to sign up at Bovada and the rest of the world can bet at Bodog. These basketball sports books are offering a 50% bonus up to $250. They also offer a first-rate casino and a poker room.