Basketball Player Austin Rivers
Freshman Austin Rivers is the starting shooting guard for the Duke University Blue Devils. He comes from a very talented basketball family. Is father, Doc Rivers, is a thirteen-year veteran of the NBA as well as the head coach of the Boston Celtics, where he coached them to an NBA Championship in 2008. Austin River's brother, Jeremiah, played basketball for Georgetown University and Indiana University, and now plays professionally in Serbia. Austin is also related to former NBA players Jim Brewer and Byron Irving. Austin's sister, Callie is also a professional athlete; she plays professional volleyball in Puerto Rico.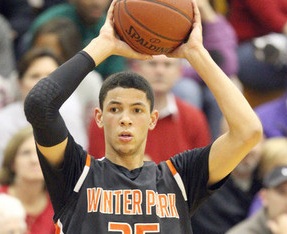 Austin Rivers was born on August 1, 1992. He played basketball in high school at Winter Park High School, in Winter Park, Florida. During his junior year Rivers lead Winter Park to their first 6A championship, scoring 23 points against Dr. Phillips. Before his senior year of high school, Rivers played on the US team in the FIBA Americas Under 18 Championship where he set a USA record when he scored 35 points in a game against Canada. He was also picked for the Boost Mobile Elite 24 Game, where he was co-MVP.
Considered the top recruit by ESPN, Scout.com and Rivals.com, Rivers settled on Duke University during his senior year after mulling offers from other blue-chip programs including Kansas and North Carolina. He then, focused on his high school team and led Winter Park to a repeat of the state championship, again beating Dr. Phillips, while scoring 25 points with 11 rebounds and 4 steals. Not only was Rivers, an All-American and All-State guard, he was the Naismith Prep Player of the Year in 2011. He also played on the USA national team in 2011, and in the Nike Hoop Summit.
Rivers made an impact early, playing in many of Duke's exhibition games. He scored 18, 12, and 11 points during three games against the Chinese National Team as well as 16 points against the Dubai National team. Rivers leads the Blue Devils in points, minutes played, points per game, and is second in steals and assists. He is also shooting 39% from behind the three-point line. Unfortunately, he is also leading the team in turnovers, turnovers per game, and his 64% free throw percentage is one of the lowest on the team. He is considered a lock for the ACC Freshman of the Year award, having won the weekly honor eight times. His most important moment came against the North Carolina Tar Heels, at North Carolina, on February 8, 2012. Rivers scored a game high 29 points, and most importantly sank a three-pointer at the buzzer to win the game by one point. The win ended the Tar Heels 31 game winning streak at home.
Though Rivers refuses confirm or deny that he will be entering the draft at the end of the year, most projections place him as a top five draft pick. His shooting skills including the ability to shoot off the dribble, perimeter shooting and poise outweigh his lack of strength and rebounding ability, both of which will likely improve with age. However, there have been reports of NBA general managers being disappointed with his performance this year. Rivers has also spoken to high school senior Shabazz Muhammed, a small forward who is considered to the best high school recruit, about joining him at Duke. This is leading some sportswriters and bloggers are speculating that Rivers will return for another year.
Rivers stated in various interviews that his three role models are his father, mother and brother. When he spoke of his father, Doc, he mentions that they share a dream. Austin wants to play in the NBA as his father did hopes to achieve even more as a player, and then eventually coach as well. River's calls his mother the "glue that holds the family together." When Rivers talks about his brother, he mentioned his brother's work ethic. River's respects brother Jeremiah's challenges dealing with injuries and struggling while changing universities during college as well as the perseverance to play in Europe. Rivers claims to be a low-key, not enjoying a lot of nightlife. He enjoys hip-hop and rap music, especially. His favorite basketball player is Derrick Rose, though he also mentions Kobe, LeBron, Wade and Durant. His favorite team is of course the team his father coaches, the Boston Celtics.