Jeremy Lin March Madness
Could Jeremy Lin Put a Dent in March Madness Ratings?
Wow, what a question! Could one man suddenly coming into focus out of nowhere really make that much of a difference? Without doubt Jeremy Lin is an exceptionally gifted player and definitely a player worth watching. But whether he will continue to out-shine and out-perform star players at NCAA tournament is something time alone will tell.
There is no doubt that Jeremy Lin is a sensation and has not only injected new life into the New York Knicks, he has captured the sporting world's imagination. All of a sudden the NBA rating have gone through the roof and is now a "must see" Sports TV during the regular season.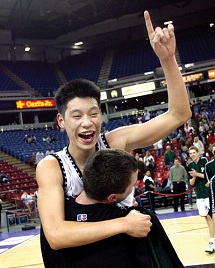 Jeremy Lin is like a superman suddenly putting in an appearance – everyone wants a glimpse of him and to see if he can really perform game after game. But the question on whether Jeremy Lin and the NBA together can put a dent in the March Madness rating is a dicey one. If Jeremy Lin continues to outperform and dazzle us then sure, it is a possibility that March Madness might get eclipsed. The experts within our staff however feel that Jeremy Lin is more like a shooting star. Whether he turns into a meteor or fades after a burst of energy is something the days ahead will tell.
Let us not forget, only 5 players (Blake Griffen, Kyrie Irving, DeMarcus Cousins, Greg Monroe and Jeremy Lin) had a PER of 20 or higher. Prior to last night's game (23rd Feb), Jeremy Lin was 8th player in the league. But after last night's game he dropped to 18th position. So will Jeremy Lin fade away like a shooting star? We don't think so. But whether he will continue to hog the limelight will depend on how he continues to play in the games ahead. The March Madness of course has a life of its own. While the NBA may no doubt steal some of the thunder, the ratings for March Madness will only increase in the days to come.
The fixture indicates that the Knicks will be in every round except the Finals. This time of the year, the NCAA tournament is usually the brightest star in the sporting world and nothing of any value competes with it especially in the preliminary rounds. This season however, Jeremy Lin has taken a major chunk out of the rating for March Madness and it is quite likely he will continue to cast his shadow for a while longer. We also expect the league to ride his wave for a while.
Of course our own staff point out that no player in the recent past has come from obscurity and reached global icon status in a matter of days. Our stats department mentioned Ken Dryden, Fernando Valenzuela and Kurt Warner – all good choices, but reach star status in 10 days flat? We don't think so.
Was it a fluke? Did the spell end last night with the defeat of Knicks at the hands of Heat? We just don't know. All bettors are waiting and watching this young lad who has the potential of wining gold for the bettors especially when playing for the underdogs.
Right now Jeremy Lin is playing like a new superstar on the horizon and one that is definitely worth watching. Though we doubt it very much, there is even rumor that Jeremy Lin Jeremy Lin could be invited to the U.S. Olympic select team this summer.
Meanwhile, March Madness will continue to outshine everything else, and we are ready for some serious basketball betting. Have no fear on that account. Keep your eyes focused on the NCAA tournament and keep the bets coming.
Online betting sites for betting on the March Madness